The Girls
(Katie, Samantha & Ellie)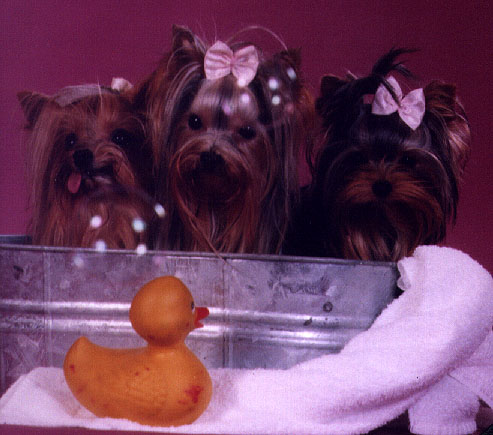 Group shots above and below taken by ShutterPup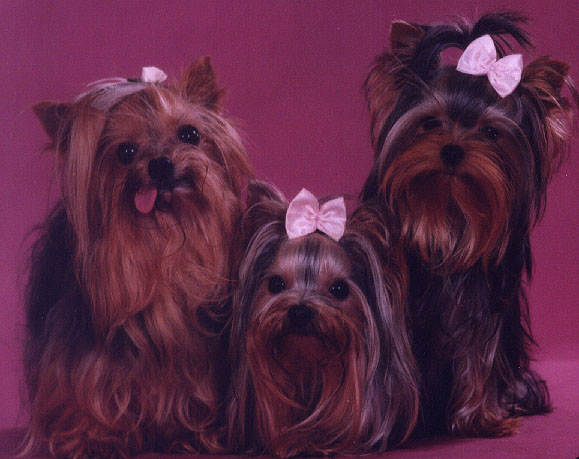 Click here to see KATIE.


Click here to see SAMANTHA.


Click here to see ELLIE.


Click here to see '97 Pictures of The Girls.




Below is a quiet sedate moment captured by ShutterPup!! Samantha (7/28/95) & Ellie (1/12/96) much prefer the "wind blown look."





Following is an "informal" shot of the Girls sitting in the butterfly chair on the deck.





And, below is Katie lounging on the edge of their Louis Vuitton pet carrier. You didn't really expect them to travel in a non-designer bag did you?





We are proud to share a collection of pictures of our cyber puppy pals.

Click here to see:

Mugsy,
Rikki,
Annie,
Mitzi,
a group shot from our Yorkie Party in the summer of 1996,
and the Guys (Willie, Nelson & Tigger too).

Click here to see:

Elizabeth, Danny and our Auntie Meredith,
Lou Lou,
Kadie and Kimba,
Miata & Murphy,
Timmy,
and Nicky & Gigi.

Click here to see:

Toby & Cricket,
Susan & The Heartbeats
Rosie,
Corky & Chipper,
Brittany & Lilly,
Bohdi,
Timmy & Nicky,
Linda, Baxter & Oliver

Click here to see:
Greater NY &YTCA,
Click here to see:
Watchung Mountain Yorkshire Terrier Club RESCUE,
Toy Dog Rescue List (How to subscribe.)
Click here to see:

Yorkshire Terrier Club (England) celebrates its centenary
and is publishing a book. Find out how your Yorkie
can be included.



Below is a picture of our new friend Emily. Her proud, happy Mom (Claudia) & Dad (Michael) just adopted her all the way from China. We think that Emily is the cutest, sweetest human. Can you find her among her stuffed friends in the picture?



You can reach Katie, Samantha &/or Ellie via their Mom's e-mail address: CMP@orgmap.com


This is a picture of Mom and Katie on their second trip to Italy. Katie is the cute one. She is also the smart one because she was carried everywhere in her designer pet carrier (Why walk when you can ride?) and enjoyed being fussed over in any language!!



Here is a picture of Mom with Katie and Jennifer. (Katie is on the right and Jennifer is on the left. Notice that Katie's tongue isn't sticking out!) We lost our Jenny in September of '95. We still miss her and always will. She was a gentle, sweet spirit, our Jennifer.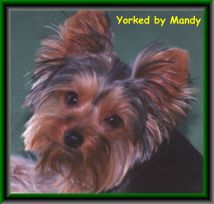 Awarded to The Yorkie Girls, 11/6/97
(Click on Mandy's picture above to get to her web site.)
Click here to find a list of our favorite links.